Upland route between Lichtenhain and Cursdorf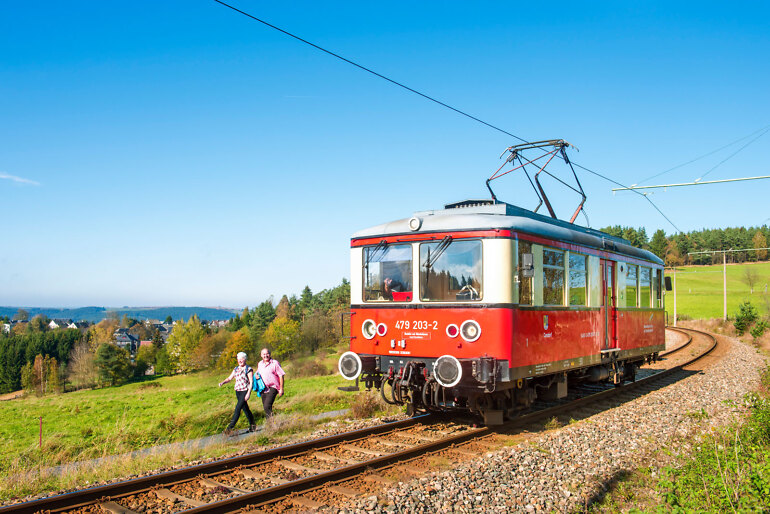 Starting at the Lichtenhain summit station, an electrified line runs for 2.5 km (1.5 miles) from Lichtenhain to Cursdorf via Oberweissbach.
It is serviced by two vintage railcars. These unique ET 479 vehicles are in service nowhere else as they were and rebuilt specially built for the Thüringer Bergbahn in the 1960s and 1970s.
They are reminiscent of old suburban railcars from Berlin, as they were manufactured in the same factory and with the same equipment.
Our highlight – the "oils carriage"
We have refitted one of our class 479 railcars to turn it into a mobile showcase for what are locally known as "Olitäten", or fragrant oils. The Schwarza valley has a long tradition of herbal and other natural remedies, and specialist pedlars transported these products from the area to the wider world. Dedicated to the small wonder-working plants that the trade was based on, the carriage contains the following:
A host of images focusing on the herbs and oils
Interactive elements that provide interesting facts about the herbs and oils
Glass roof and open windows
Binoculars that provide a better look at the beautiful scenery
The railcar operates during good weather from May to October as part of normal services.
Bergbahn tickets include travel on the upland route between Lichtenhain and Cursdorf.
All of the upland route's stops and vehicles are accessible to wheelchairs and prams.